(Posted April 2018) This was doing the rounds of Facebook the other week, especially Scottish Indy group pages. This woman apparently claims our hard earned cash to pay for her travel to the House of Lords from her house just round the corner. This appeared on the Facebook group page Pensioners for Indy and it had been shared from another FB group page called Rolling Thunder.
Is it true?
Well I thought I could begin trying to find out by looking on the House of Lords website. And sure enough, it has details of the Lords' expenses claim going back years. They don't get paid a salary – unless they also hold a ministerial position in the government of the day – but they can claim a daily allowance when they are in the House and they can claim for travel, postage, and a few other things.
So I looked up Baroness Wilcox. Here are her most recent expense claims, for the year to November 2017.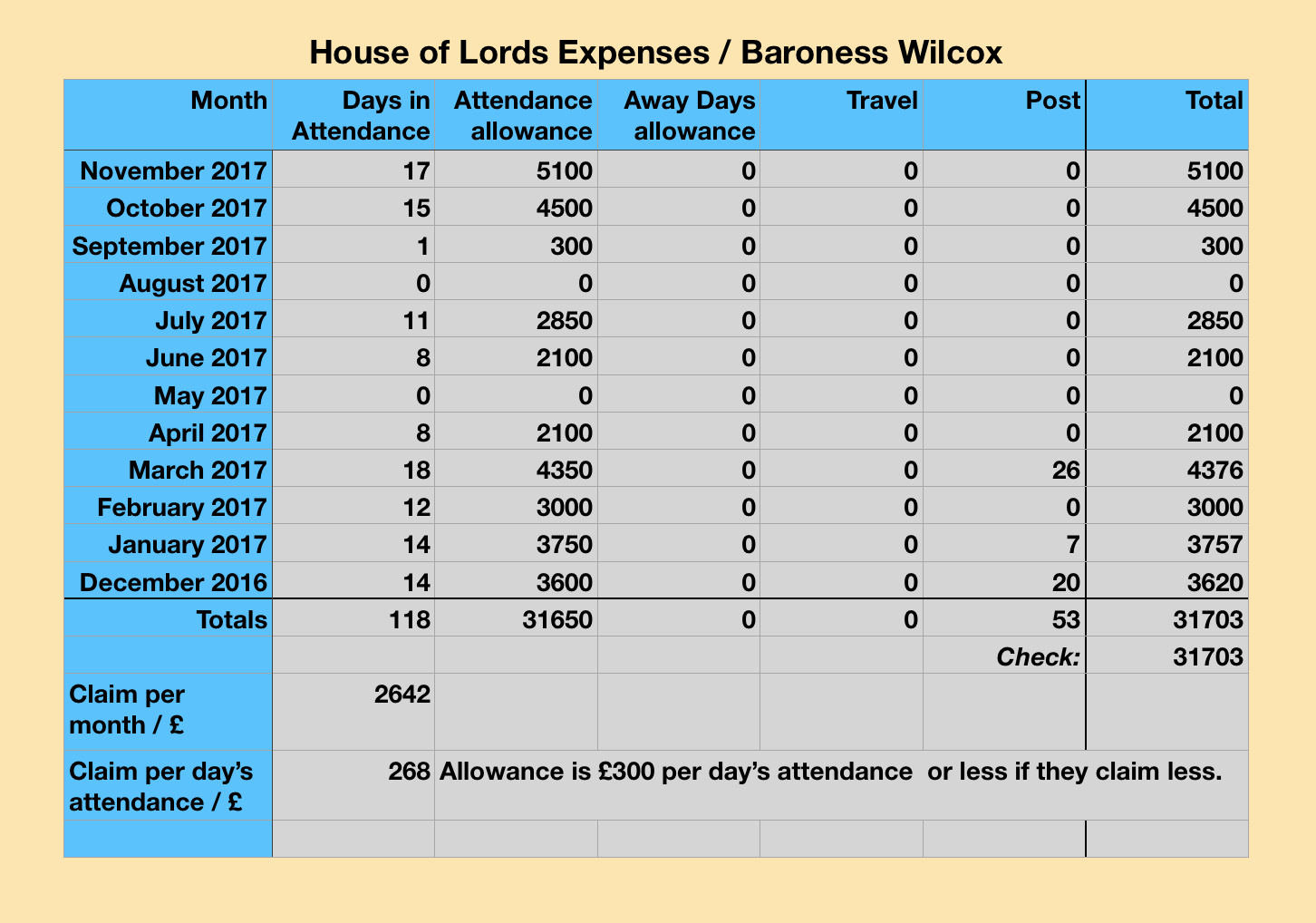 So she only claimed the attendance allowance for the days she was in the House. . She didn't claim travel or any other expenses apart from fifty quid for postage.
The meme says she claims "up to" £5700 a month. Well not over the most recent year we have figures for she didn't. "Up to" is a very imprecise way of putting it. She claimed "up to" £5100 inasmuch as she claimed that amount in one month. But on average she claimed £2642 a month. And of the £300 per day's attendance that she could claim, on average she claimed £268 per day. Let's assume she's there for 8 hours a day (probably she's there a lot longer than that since sittings start at around midday and can go on till midnight. But 8 hours a day means that she is getting £33.50 an hour. That's not to be sniffed at. But it's not extortionate compared to professional hourly rates. It's about the same as a young GP or solicitor working a 35 hour week.
The meme also says she claimed that "for her walk to work". Well no she didn't claim any travel expenses. And the daily attendance allowance is the same for everyone irrespective of where they live whether that's Land's End, John O'Groats or just round the corner from Westminster.
Who are Rolling Thunder? and where did this meme come from?
I got a bit of a shock when I looked for Rolling Thunder on FB. It's a group with about 5500 members. It fits into the alt-Right grouping, lots of posts about immigration, Islam. And the page photo is taken direct from UKIP TV. Here it is. You'll notice that they all have St George flags.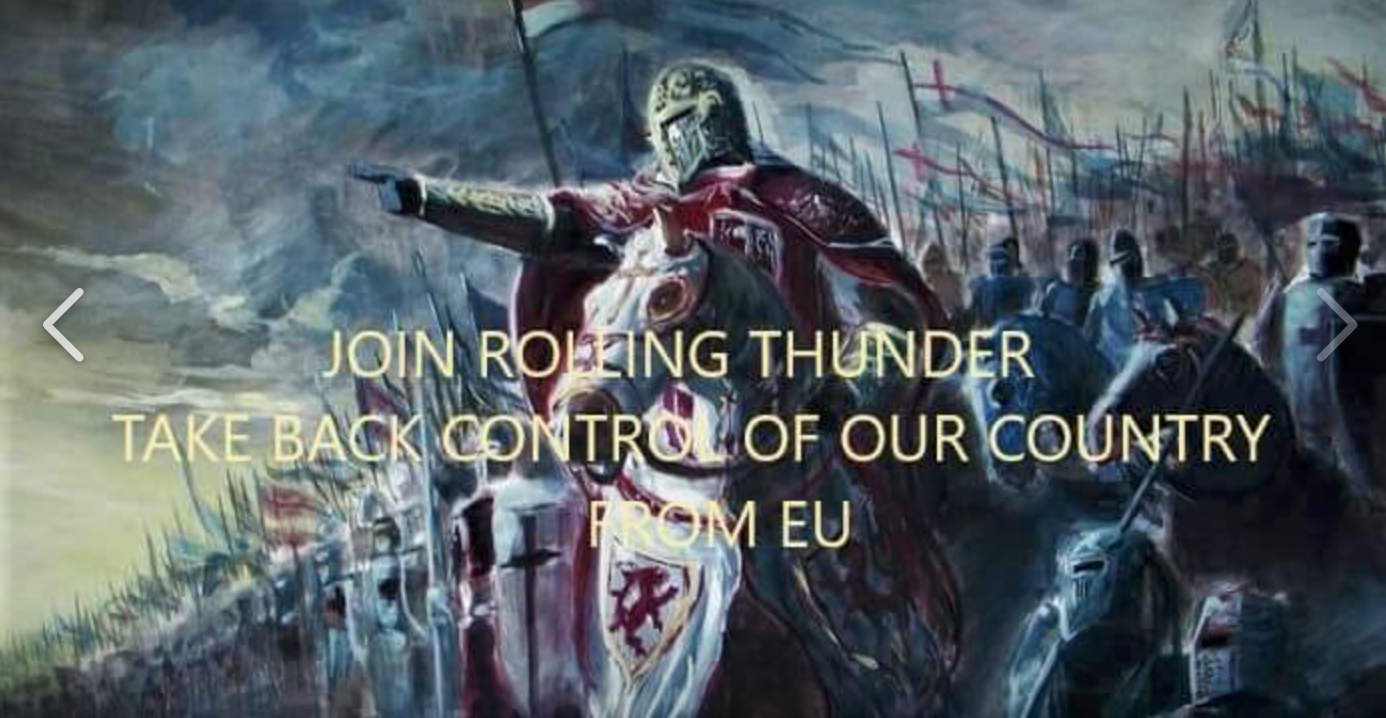 It's not Rolling Thunder itself that shocked me. I'm sure there are lost of such groups on FB. I was shocked was that someone thought it was OK to share something from that group to Pensioners for Indy. Without giving any indication about where it came from. Perhaps I'm just being naive.
The meme itself originated in the Daily Mail and it's dated July 2015. The version of the meme that's been circulating round Indy sites is directly from the Mail. Here's what they said:
She lives in a £4million home just 200 yards from the House of Lords.
Yet Baroness Wilcox still bills the taxpayer up to £5,700 a month for her walk to work.
In two years, the 74-year-old former Cadbury Schweppes director has pocketed £74,400 in parliamentary attendance allowances.
The former Tory minister is among scores of affluent peers who claim thousands despite living in and around Westminster.
None has broken any rules – and they are otherwise unsalaried. But they stand accused of cynically exploiting a new tax-free payment of up to £300 a day that is massively weighted in favour of those based in London.
So to repeat:
There is absolutely no logical connection between the first and second sentences above.
Attendance allowance is for taking part in official Lords Parliamentary Business.
A Lord who lives in Land's End will get the same allowance for attending and in addition can claim for the cost of travelling to London.
Where's the "cynical exploitation" and why it is "massive weighted" in favour of Londoners?
No doubt she is a "former Cadbury Scheppes director" but she got a BA in Business at Plymouth, started and built up various successful companies which were later bought by larger companies like Birds Eye, so you know not a landed gentry type, but someone who's been a successful businesswoman.
Just out of interest: what is her voting record?
She's a Tory. She was 'elevated' to the Lords in 1996 as one of the first Working Peers. It's very east to find out her voting record. Just google 'Baroness Wilcox voting record' and you find the website theyworkforyou.com which has all the voting info of the Noble Lady.