Last week I spent six days on board the Saltwater Gypsy in the company of three friends and David Leaver, the skipper. [Here's a link to his website…… Northern Wanderer.]
Took the train up from Glasgow. Met up with my three shipmates in Oban, then went along to Dunstaffnage Marina. David welcomed us aboard and proceeded to give us the weather forecast – a Force 10 storm was due in from the south east the following evening. So we might not be able to leave the marina till Tuesday 🙁 On the other hand a Force 10 storm looks like this, so better safe at anchor than seasick. But come morning, the forecast was giving us the opportunity to run over to Loch Sunart before the storm set in. So by 8.30am-ish we were under way, sails up and heading across Loch Linnhe to the Lismore Lighthouse then up the Sound of Mull.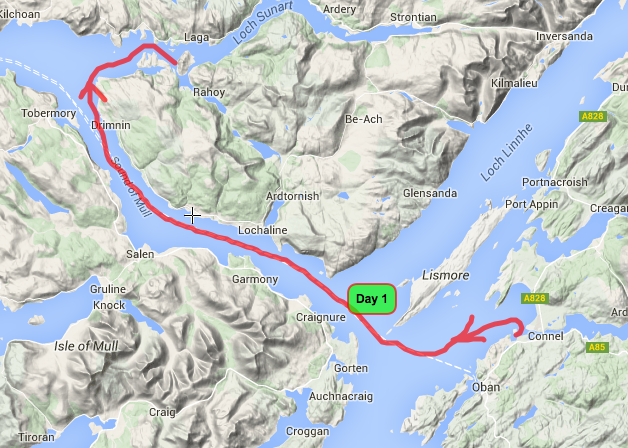 Once we were well into the Sound, David asked if anyone wanted to drive. (He may use terms like this but don't think he isn't anything but a first class ocean yachtsman, among many other accomplishments.) Rachel had first go. Then me. Then Dave said he'd just go below to make us all a cup of tea. Eek! I'm sure he'd have been up on deck instantly and taking over the helm if he'd felt the boat do anything untoward in the hands of me, a complete sailing rookie. Well not complete. I do have my RYA Dinghy Level 1 Certificate 🙂 The Saltwater Gypsy is a 43ft Seastream ketch though. Anyway it was all fine. Even if he did cast aspersions on my ability to steer a straight course.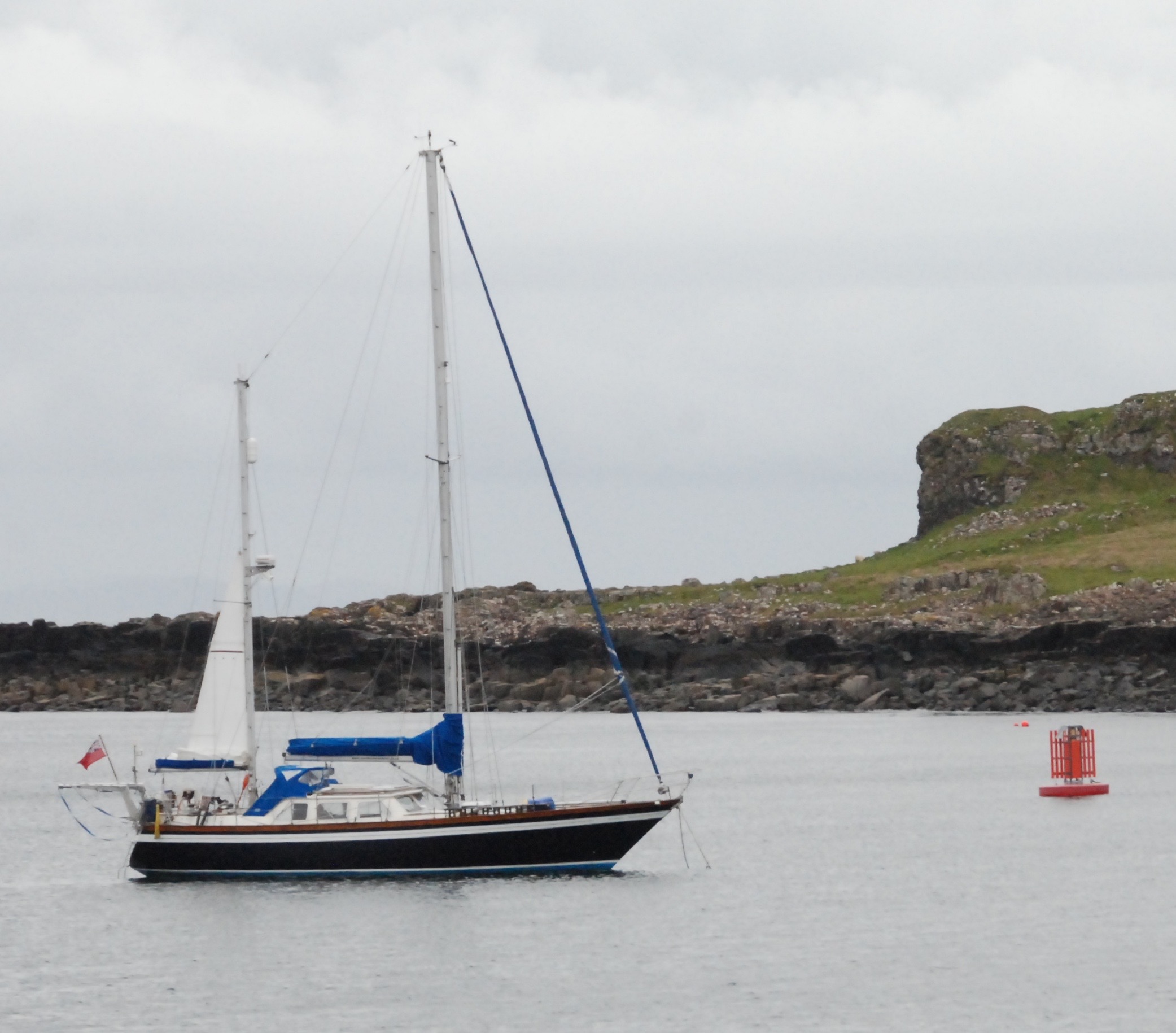 It took 5 hours to get into Loch Sunart and anchor in a spot well sheltered from the coming southeasterly. He clearly knew his anchorages because the boat hardly rocked at all during the night although the wind was whistling through the high rigging. Come morning and the sky had mostly cleared, the sun made efforts to dry our wet gear, breakfast was on the table and noone was seasick, thanks to a few tablets of Sturgeron taken the night before.
By 9am we were heading out along Sunart towards Kilchoan village on the Ardnamurchan Peninsula; no rain, sunny intervals and a force 4 or 5 wind. At this point we didn't know whether we'd be heading to Coll or Muck once we got past Ardnamurchan. It depended on the wind and tide. In the end the run north to Muck was the better option and we were there by lunchtime.


I have been to Muck before – for a Buddhist retreat in the early 80s . It's changed some. Not loads. There is an array of solar panels behind Port Mhor and some wind turbines on the hillside above. Much better than the diesel generators we used! There's a smashing community hall with community library, exhibition space, computer and wi-fi access, kitchen, showers, washing machine… all open to anyone, resident or visitor, with just a request for a donation. Oh and there's a basketball court which can probably double as a village meeting space. I did wonder if there are enough people for two teams…. Biggest visual change is the new pier (EU funded) which allows the CalMac ferry to dock at the island. When I was there, the island boat picked up supplies and people at Eigg and brought them to Muck and if the tide was out making the jetty inaccessible then your feet might get wet getting ashore!

More photos are here …..
Loch Sunart & Isle Of Muck

Flickr Album Gallery Powered By:

WP Frank