Yesterday was Derek Mackay's big day – presenting the Scottish Government's proposed Budget for 2018/19.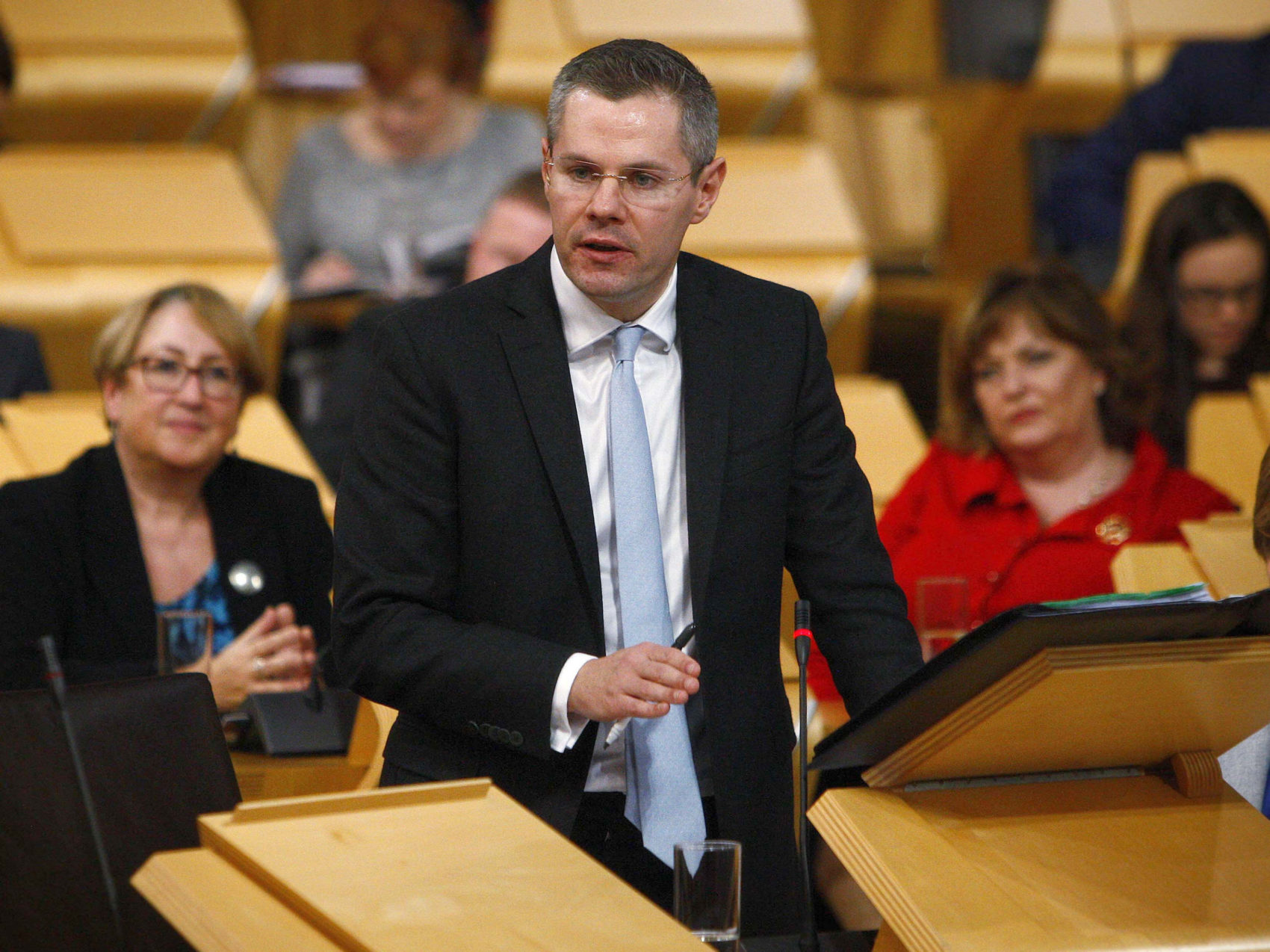 The Scottish Daily Mail headlined their Front Page with their take on what the budget means for Scots: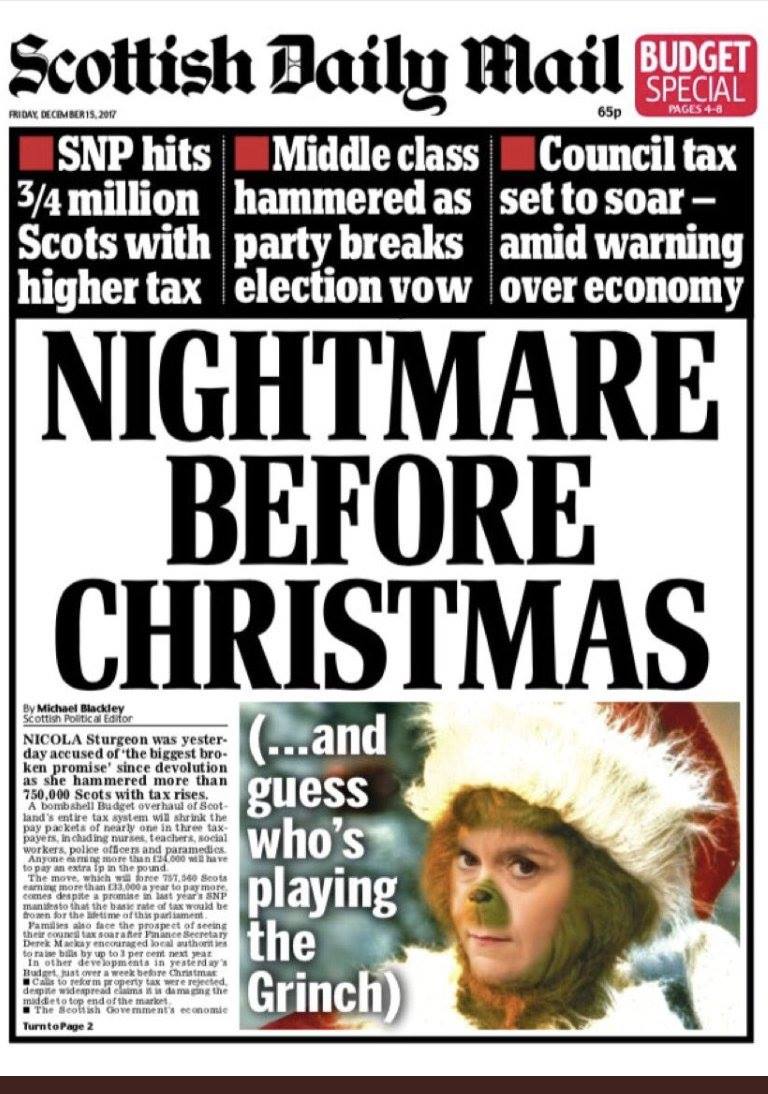 Scotland's working population was 2,604,000 in Jan2017 (UKGov Source). The Mail says that 3/4million of them will be "hit" with paying more tax,
that is a bit less than 30 % of the working population. The 30% who are the highest earners in Scotland.
The Mail could have put it another way : 70% of the population will pay less income tax and the other 30%, who are the highest earners, will pay a bit more.
I guess that's too many words for a snappy headline though.
What does ScotGov say? "7 out of 10 Scots to pay less tax." That's actually quite snappy.
So are middle class earners going to be "hammered" like wot the Mail says?
Here is what the changes Derek is proposing will do to your income tax bill: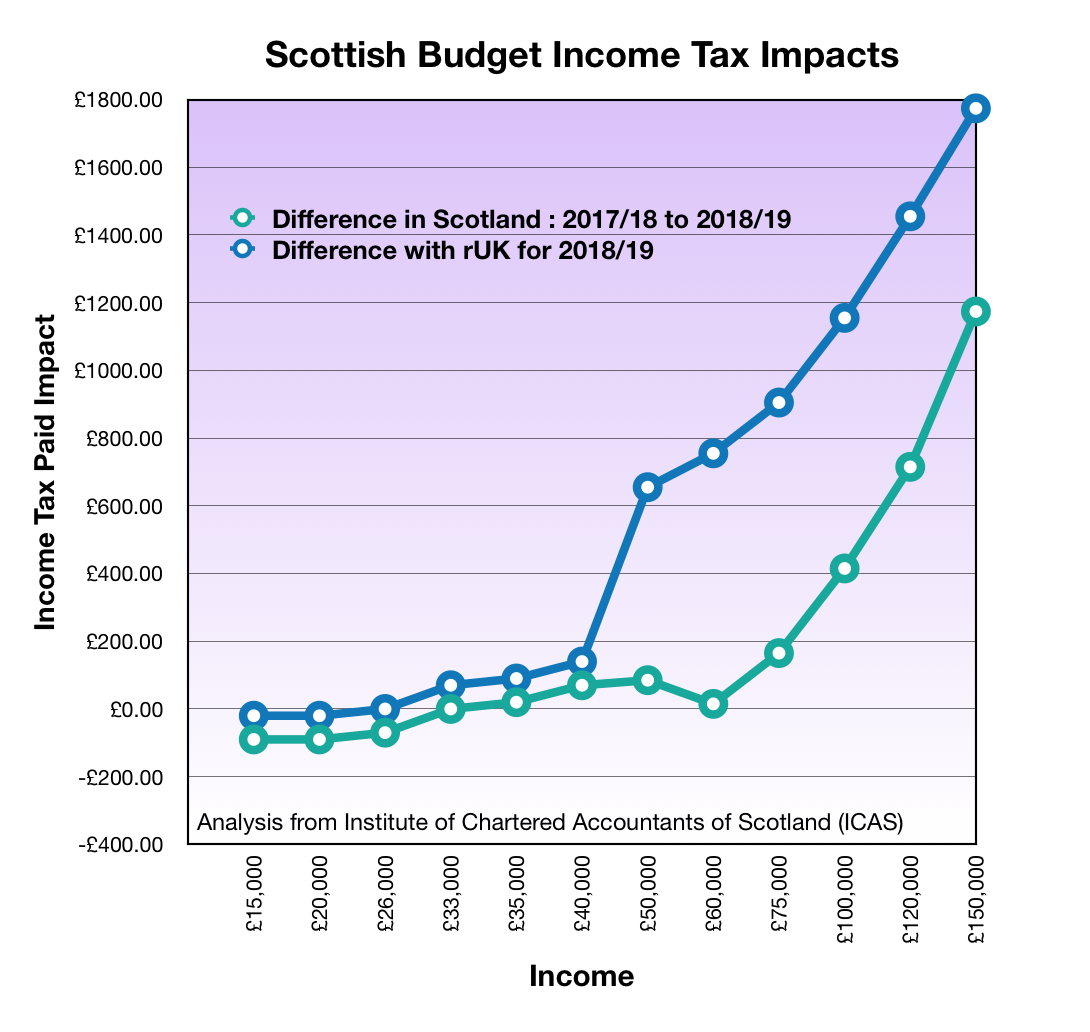 To explain the green graph – showing the difference between income tax paid this year compared to next year when the changes come into effect:
overall Scottish income tax revenue will be realigned so that less income tax comes from lower paid workers and more of it comes from those with higher incomes.
average income in Scotland is around £24K. If you earn £33K or less and your income stays the same next year, then you will be paying LESS income tax next year than you are this year. (Mind you if you're a nurse currently getting less than £30,000 then your income will in fact go up by 3% but that's another story…)
from £33K upwards, you will be paying more income tax.
At £40K you'll be paying about £40 more. At £90K, you'll have £315 less in your pocket. Over the whole year.
To put that in context, £40K a year is about £150 per working day and you'll be paying 15p more per day in tax next year. £90K a year is about £364 a working day and you'll have an increased daily tax bill increase of £1.20 or about half a cappuccino.
To explain the blue graph – showing the difference next year between income tax paid in Scotland and in rUK:
it compares what someone living in Scotland will pay in income tax next year compared to someone with the same salary living in England.
it's not quite the same as the green graph because there will be differences in when the various higher tax bands come into play. But overall if you're living and working in Scotland and earning about £90K then you'll contribute about £1100 more in income tax than if you worked in England. Thats about £4.23 a day out of your daily earnings of £364.
Hammered? Nah …
Just helping build a civilised, decent and fairer society,
as ALL of the increased tax revenue is spent in Scotland.
And as Nicola tweeted earlier today…
"There is no Grinch in the 'Nightmare Before Christmas'!! Is this more evidence that you can't believe what you read in the Daily Mail? ;-)" @NicolaSturgeon