5 Jul 2021: Scotland Becomes the Covid Capital of Europe
A few weeks ago the World Health organisation referred to Scotland as the covid capital of Europe. The UK media couldn't believe their luck and piled in: BBC sent Kirsty Wark and others out and about in Scotland to report from "Covid: Scotland tops Europe Hotspot Chart". That was around 5 July. In the following days, that was picked up by The Scotsman. And it was headline news in The Time, The Telegraph, The Express and others all with their particular spin on it. The Express blamed it all on the SNP so no surprise there: Sturgeon drops the ball: SNP shamed as WHO brands Scotland 'Covid capital of Europe'
The Financial Times Covid Tracker is open access and it's a great tool for looking a how things are doing in the UK four nations. You can also add in other countries for comparisons if you want. So for example cumulative cases per 100,000 of the population since the pandemic began. And I've added in the EU for comparison.
But when you look at the actual figures, Scotland is hardly the worst in Europe by any means. Of course that's not a very eye-catching if you're looking for a good headline.
Was it all just another Unionist Project Fear flurry?
Well no, after all it was WHO who first used the phrase. And Scotland did have what looked like pretty high covid figures in the early part of July. Here they are.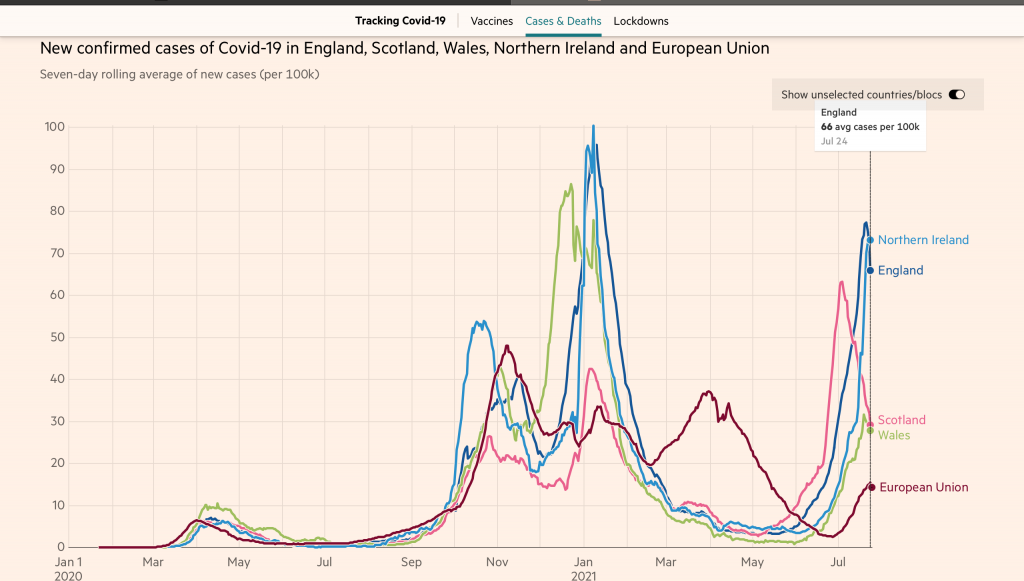 So yes on 5 Jul, Scotland's daily new cases were well above EU and the rest of UK and yes we had some very high level 'hot-spots' like in Dundee. Various possible cause were mentioned :
was it linked to the Euros? Hampden was one of the venues. Thousands of fans went down to Wembley. But then how come the peak was just appearing up here.
It even perplexed Prof Linda Bauld so no point in me trying to explain it.

Prof Bauld said something "wierd" was going on with the figures, as the majority were among men — when throughout the pandemic fresh cases had been split between the sexes evenly. She said it was too early to link the upsurge to fans gathering for Euro 2020 football matches, (The Herald)

In July I heard Prof Linda Bauld speaking about it again on BBC News. Rather frustratingly I can't find the recording of that. But she did point out that Scotland had had a much lower case rate in the wave that came though in January, compared to the rest of the UK. Of course that was good but it also means that fewer people in the general Scottish population would had developed antibodies through infection compared to England. So counter intuitively that may have left us more open to the new Delta variant as took over as the dominant strain a few months later.
But to get back to us being the Covid capital of Europe. That was true for about a week. WHO said it first and then the UK media piled in. And then our new case numbers started to fall. And England's new case numbers took off up a very nice-looking exponential curve and they quickly over took the level that WHO had called a covid capital. So the covid capital had shifted 400 miles south. Obvs.
Did BBC get Kirsty Wark on again to tell everyone the good news in Scotland? Aye, right.
Did BBC start referring to England as the Covid Capital as they overtook us and as our case rate fell? Aye right.