I spent last Saturday up in Perth in the Salutation Hotel at the "Gearing Up for a Better Scotland" event set up by Commonweal local groups. As a 17 year old I lived in Perth and used to spend my Saturday evenings at the Spiders' Web disco in the Sally 😀 . In fact I think we might have been in the same room on Saturday, not that it's set up as a disco any longer.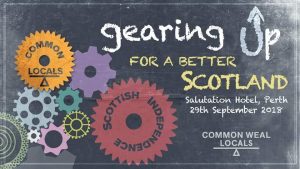 There were about 100 of us at the event. It was very good, very well organised. The setup worked like this: a talk or a presentation, followed by a round table discussion, followed by feedback from those discussions, followed by lunch or a coffee break.
Robin McAlpine gave a political overview of how things stand at the moment. Robin is a fast talker and he covered a lot of ground: what Commonweal is doing, publishing reports, talking to local Yes groups as they get under way again, campaigning on specifics like currency, land reform. Put simply, we're waiting for the starter's gun to herald Indy Ref 2.
In the first round table discussion we introduced ourselves to the others at our table, usually about six folk plus a facilitator, and we talked about what aspects of Scottish independence campaign we're interested in. Most of us at my table were pensioners so that influenced what we'd been thinking about. We also had a Norwegian so we got his view of Scots and how things are similar or different in Norway. Here's a rough overview of what came out of that discussion.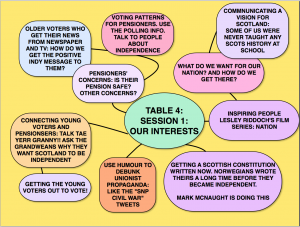 After lunch, Bill Dale gave a presentation about reframing, that's where you take a particular way of looking at a subject and move it into a different perspective that lets you talk about it differently. If the first frame was negative then you could reframe it into a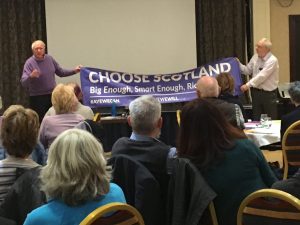 positive frame. Probably the best known example of that in terms of Scottish independence is the Unionist taunt :
"Too wee, too poor, too stupid"

Transforms into:

"Big enough, rich enough, smart enough"
We had some fun trying out Bill's methods by role-playing with the people at our table. It's not as easy as he makes it seem! To download his Reframing Works handout, or find out about his workshops, click on these images: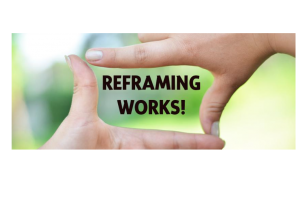 After Bill Dale's talk came Sarah Mackie who showed us how she'd learnt to take an idea, do some research on it and from that produce short video clips. She is bloody good. She's produced some crackers of wee video clips and they've gone viral on social media. She gave us this handout with some tips for getting started. As she said, some people really enjoy delving into long reports but most of us need something to give us the basic picture and then maybe we'll have a closer look ourselves. Her videos are on YouTube. Here's one:
The next speaker was Craig Dalzell on the topic of policies and campaigning. (His website is called The CommonGreen and and he's been involved in producing lots of Commonweal Policy Papers.) He very sensibly got us to do the work. Each table, and there were about half a dozen people at each one, chose an area of interest and attempted to lay out an overview of its current pros and cons with a sort of map of what we'd like to do to improve matters. In the feedback session afterwards some of the tables described what area they'd chosen and what policy direction they'd come up with which included housing, education, energy.
Our table chose land reform. One of us was involved in efforts to transform former mining land in Ayrshire into a public amenity. I've been supporting efforts to regenerate Govan Graving Docks from its current state of neglect into a range of facilities: affordable housing, a working dry dock, a maritime heritage museum. We talked about how to discourage "land banking" where developers buy land and let it become derelict until they think they can make a profit out of it. We talked about doing away with the current council tax system and instead have a system that's dependent on the value of the land/property including unused property. We talked about needing transparency in the land registration system. Although Scotland has one of the oldest land registers in the world, land can be registered under a company name, often based outside of Scotland and with no way to see the actual names of the owners. ScotGov has made a start on land reform but there's a way to go yet. Given that we only had about 20 minutes to do this, I thought we did pretty well.
I missed the final session which was about campaigning with young people. Cat Boyd was down to speak but I had to leave.
What next?
I really enjoyed the day. It was friendly, stimulating and very well run. I was full up with all the input but that's no bad thing. But what next?
One thing that stuck in my mind is the reframing work. And in particular trying to see how it can be applied to ideas and views about older voters. In 2014, almost three quarters of 65+ voted No. A recent poll done by Delta Poll for The Scotsman found that proportion had decreased to less than two thirds of 65+. That's a significant drop but there's a way to go yet.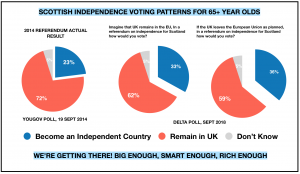 I'd like to see what words get associated with pensioners and how we might reframe them:
You're past it! No, I've lived a long time and seen a lot.

You're too set in your ways! No, I'm careful about how I make decisions.