If you live off your wealth, if you spend it, it's not sustainable. You'll be poor.

Joseph Stiglitz
You'll likely have heard of Norway's oil fund? It is currently worth about $1trillion. No, that's not a typo. They have built it up by judicious taxation of their oil production and exports, and keeping much of their oilfields held by their nationally owned oil company, StatOil. Norwegians thought that the profits from their oil reserves should be for the benefit of Norwegians, all Norwegians.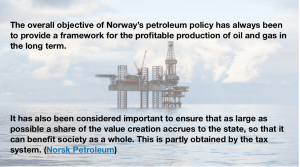 The reference for the above is here: Norsk Petroleum. It has more detail about how they balance their aim of protect their national wealth with what's needed to ensure a vibrant oil industry and attractive investment for international companies. More about how they invest, where they invest, and the ethical policy of their investments, here: Norges Bank
And after nearly 50 years of oil exploration a country of 5million people has a bank balance holding the equivalent to $200,000 for every Norwegian. Not that Norwegians can access their share of the oil fund. They agreed a while back that the fund would be used for the benefit of future generations. They also use it to finance their public pensions expenditure.(ref)
Norway's oil find isn't a rarity.. In fact you could say that it's the norm for countries who have oil & gas reserves in their territory. Kazakhstan has managed to set up a fund, for goodness sake. Look: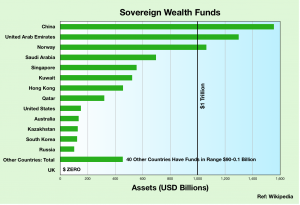 Who is missing?
There is one exception, us. Scotland's North Sea oil reserves (also known as the UK's oil reserves) are approximately equivalent to Norway's. An independent Scotland could have had an equivalent sized oil fund to benefit Scots citizens. And not to be mean about it, we could have had a UK oil fund to benefit all UK citizens if only we'd had a UK Government that had bothered to invest its new found oil wealth in people's futures, instead of just spending it. The late 70s, 80s, 90s…. who was in power? Oh yes, mostly the Tories. Labour set up BritOil a national oil company and the Tories sold it off. Very cheaply. More here:
It's not too late. Here is Joseph Stiglitz, Nobel Laureate for Economics and adviser to the Scottish Government, making the case for a Scottish Oil Fund. Just another job for an independent Scottish Government. I hope someone is planning it now.
Header photo: NAC [CC BY-SA 4.0], from Wikimedia Commons